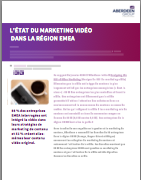 Un rapport de janvier 2014 d'Aberdeen intitulé Analyzing the ROI of Video Marketing, et qui a rassemblé les données de prèsde 80 entreprises,  démontre que la vidéo est le type de contenu le plus largement utilisé par les entreprises exemplaires (« best-in- class ») : 95 % des entreprises les plus rentables utilisent la vidéo.
Ces entreprises ont découvert que la vidéo permettait d'attirer l'attention des acheteurs dans un environnement où la concurrence du contenu ne cesse de croître. Celles qui intègrent la vidéo à leur marketing mix de contenu ont constaté un taux de conversion moyen en hausse de 66 % (4,8 % contre 2,9 %).
Passons donc ces données au crible.